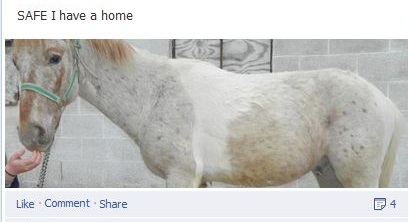 This is me when I was rescued. Wow-it was CLOSE!
Hi – it's me! Blue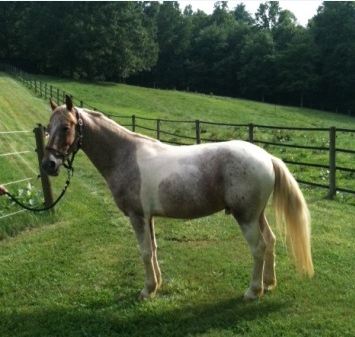 This is my first blog post. Ever! I'm a little nervous but I DO want everyone to know how great it was to be rescued and given a second chance. I've learned a lot already but I think a good place to start is at the beginning. So here goes. . .
At the time of my rescue, I was considered to be very skittish - but who wouldn't be? I had no idea where I was or what was happening to me! All I knew was that I was bought at the New Holland Auction in PA, loaded into a van, and taken to a farm for horses bound for slaughter. Slaughter!! Can you imagine! Skittish???....You betcha.
I was lucky though. As it turned out, a rescue organization found me before it was too late and helped me find a new home. A lady named Kelly posted my picture on Facebook and asked people to adopt me. At first no one seemed interested – I guess I didn't look so good in my photo - but good heavens - I have potential! I just needed someone to realize this. And, FINALLY someone did! The folks at MatchnRide could tell that I was a pony with a big heart just wanting a good home.
After a few weeks in quarantine to make sure I was healthy, I traveled south to a beautiful place in North Carolina called Forbes Farm. I was given a super nice house where I was able to calm down and get my strength back. Here I met my new best friend, a little white pony named Paradise. It was just great! Paradise didn't care that I was a nobody, she knew I would adjust and make something of myself. During the day we graze together on our OWN pasture – goodness gracious, all the tasty grass!
I love my new owner and she really likes me too! At first I was concerned because she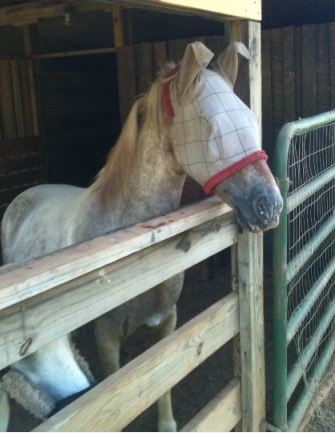 kept putting my food and water in a bucket! I mean really - did she expect me to put my head in there!!! THEN, she actually wanted me to wear a bag on my head, I almost died on the spot! But guess what – I don't mind the buckets or the bag anymore, I'm gaining weight and this bag keeps the flies off my face and ears. Just wish she could find a bag that fits – my ears aren't doing much for my new image.
I have been with MatchnRide.com for several months now and am ready to start seriously training for my new career. I am no longer a skittish pony, as a matter of fact; they say I'm very sweet. And if I understand correctly – I have three lovely gaits to boot!
We'll that's all for now. I'll be back next week with a progress report. I hope you will follow my adventures because I'm feeling good and want to show everyone that second chances DO make winners!
Talk with you next week - Blue
Blue is a rescue pony that one of the MatchnRide.com owners saved from slaughter. Blue has been recuperating in North Carolina over the past few months, winning over new friends and strutting three lovely gaits as he enjoys his new found freedom...for Blue, life is all about second chances.
Now fully rested and ready for new challenges, Blue is blogging updates on his new adventures and sharing his progress learning new skills and discovering which High Performance discipline he wants to dominate!